Extended Pet Sitting Services
Travel and spend time away from home guilt free! Our extended services give you total peace of mind for your pets and home. Our trusted pet sitters will provide around-the-clock love, care & attention for your critters.
Extended pet sitting is recommended for pets with separation anxiety or other health issues, puppies & our senior friends. We will follow your routine, so your pet's care stays the same, even when you're away.
In addition to pet care, we will help with a few minor household tasks: alternate blinds & lights, bring in mail & newspapers and water a few indoor plants.
Report Card & Pictures
These services are extremely popular and fill up very quickly. Please reserve your spot as soon as possible!
Additional dog: $4 each
Additional cat or pocket pets: $3 each
Overnight Pet Sitting + 30 minute Midday Walk | $95
We will stay at your house from 7/8PM to 7/8AM every day in order to give your pets and home added security. Your pets will enjoy a 30 minute Evening Walk, a bedtime potty break and a 30 minute Morning Walk! We come back Midday between 11AM and 3PM to give your pooch a 30 minute walk or play-time, as well.
Sleepy Time Service | $45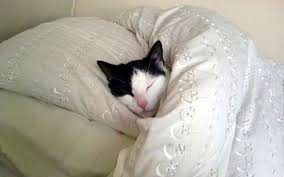 Does your pet need some extra love and attention at bedtime? We will come to your house for 90 minutes between 7 PM and 9 PM to give them a short walk, playtime and the extra love and cuddles they need. This service is perfect for pets that need to be tucked-in, but don't need a sleepover.
Home Stay | $175
Do your pets need extra care, love and attention? Our pet sitter will spend 18 hours with your loved ones and provide continuity of care when you're away. Let us give you total peace of mind around the clock!